Location
---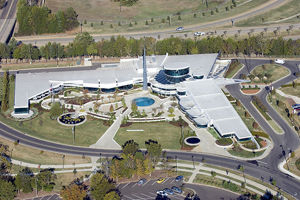 The Hunter Henry Center, home to alumni and development at Mississippi State University, was built entirely on the strength of private gifts from alumni and friends of the university.
Visitors to Mississippi State's campus are welcome to visit the Hunter Henry Center. The facility is available for special events and conferences year-round.
The building is located at 1 Hunter Henry Boulevard on the western edge of the Mississippi State campus.
Mailing Address
The MSU Foundation
P.O. Box 6149
Mississippi State, MS 39762
Physical Address
Hunter Henry Center
1 Hunter Henry Boulevard
Mississippi State, MS
Phone number: 662.325.7000
Email: info@advservices.msstate.edu
Hours of Operation: 8 a.m. - 5 p.m., Monday through Friday.
Closed for all MSU observed holidays.