Our Facility
---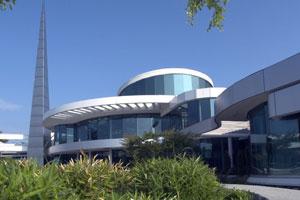 The Hunter Henry Center is a phenomenal example of what one Mississippi State alumnus can set in motion. That one alumnus was Hunter W. Henry Jr., who so generously made the cornerstone commitment for the spectacular facility.
The late Henry, a Canton native who resided in San Marcos, Texas, was the retired president of Dow Chemical USA. In 2000, the 1950 MSU chemical engineering graduate made a commitment of $3 million toward the project that would become a centerpiece for campus and community activities.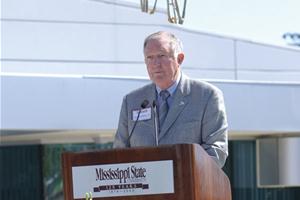 The 41,000-square-foot building, located at the intersection of Hunter Henry Boulevard and Barr Avenue, was built completely on the strength of private gifts. Designed by Foil Wyatt Architects of Jackson and constructed by JESCO Inc. of Fulton, the center houses offices, a 300-seat capacity ballroom, and 14 meeting areas. The facility houses lifetime recognition for Mississippi State's most generous donors in the upper mezzanine area of the building known as Legacy Hall. The exterior of the building features a spacious garden area with several attractive water features and its signature feature, a distinctive towering 80-foot spire.
Groundbreaking for the facility was held in March 2001 as part of the university's Super Bulldog Weekend festivities. The $12 million facility officially opened in November 2002. The facility is one of a handful of joint alumni and foundation centers around the nation.